Elders Real Estate Palmwoods
Elders Real Estate Palmwoods is a multi award winning, locally owned and operated business in the Sunshine Coast Hinterland. We offer friendly, professional, knowledgeable service and advice. Elders Palmwoods specialise in rural properties, residential houses, lifestyle acreage and lifestyle with income properties. We also incorporate an excellent Property Management department.
 Click here to watch our office video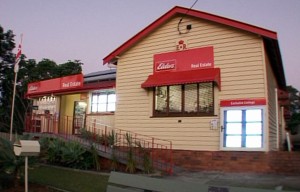 Our professional staff are YOUR greatest asset.  Our reputation is your guarantee.
A supportive team environment enables our staff  to operate at peak performance 7 days a week . We match Buyers with Sellers and Tenants with Investors, thus helping to fulfil dreams for all parties involved. Our proven marketing strategies, highly trained consultants and the wonderful village of Palmwoods await you.
We have a firm belief that the hard work is not just getting a sale – it is between sale and settlement that is often when the most work is required. 
Follow up, attendance at pest and building reports, valuations, liaising between solicitors, financiers, sellers and buyers – it is all part of our job.
We look forward to meeting with you and offering good old fashioned service, working together to fulfil dreams and achieve results.